SKIN REJUVENATION FOR AESTHETIC MEDICINE
LEVEL 4 CERTIFICATE
Chemical peels and micro-needling are two of the most popular and clinically effective skin treatments. This nationally recognised qualification offers medical and beauty professionals the opportunity to become proficient in skin techniques essential for every aesthetic practitioner.
Overview
Aesthetic medicine offers you the ability to combine your creativity with clinical expertise. Our Level 4 course focuses on two of the most popular skin rejuvenation treatments on the market: chemical peels and microneedling.
Harley Academy occupies a distinguished place in the field of aesthetics training because of the existing Injectable course, which is the UK's first government-regulated Level 7 qualification in aesthetic medicine. The Level 4 in Skin Rejuvenation is the first step within a progression route for all professionals working or entering the aesthetic sector.
This postgraduate level Certificate in Skin Rejuvenation for Aesthetic Medicine allows current and aspiring practitioners to meet Health Education England's 2016 Qualification Requirements for Delivery of Cosmetic Procedures.
Course Structure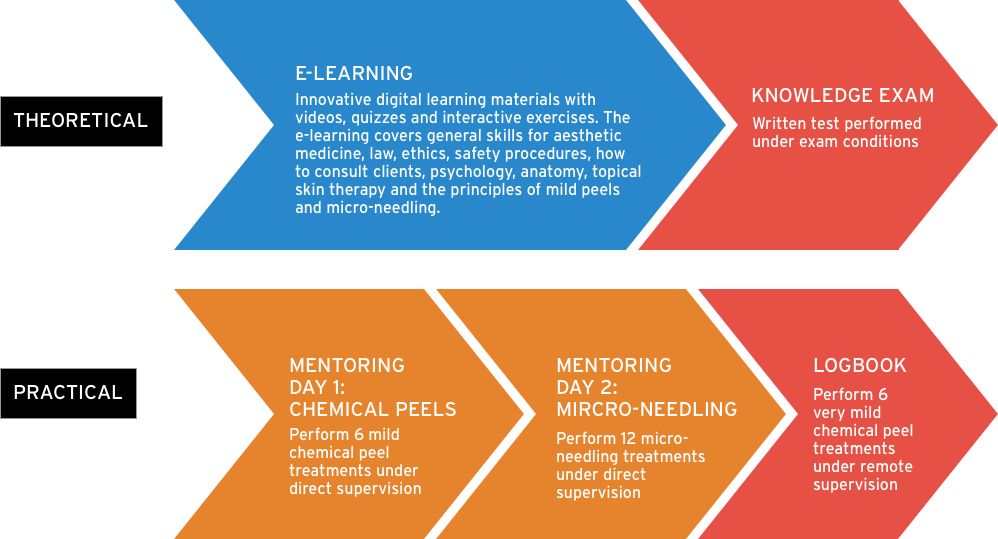 What Will I Learn?
The following topics are covered in the Level 4 Certificate in Skin Rejuvenation for Aesthetic Medicine:
Unit 1: Generic skills for aesthetic medicine
Unit 2: Professionalism, Law & Ethics
Unit 3: Health & Safety
Unit 4: The Patient Consultation
Unit 5: Anatomy & Physiology
Unit 6: Psychology
Unit 7: Topical Skin Therapy within Skin Rejuvenation
Unit 8: Principles of Very Mild Chemical Peels
Unit 9: Practice of Very Mild Chemical Peels
Unit 10: Principles of Light Microneedling
Unit 11: Practice of Micro-needling
In terms of practical skills, by the end of the course you will be able to:
Recognise indications and contraindications for very superficial chemical peels and superficial micro-needling use;


Conduct in-depth patient assessments;


Deliver a range of chemical peel and micro-needling techniques;



Manage treatment complications.
Entry Requirements
Essential:
Certificate of attendance at a Foundation Day in the relevant procedure(s) (chemical peels, micro-needling, mesotherapy).



Valid GMC/GDC/NMC/GPhC registration




OR




A full Level 3 qualification in Beauty Therapy





English as a first language, or English Language Testing System (

IELTS

) 7.0 in all components
To book fill in this form and choose a time to talk by phone